M9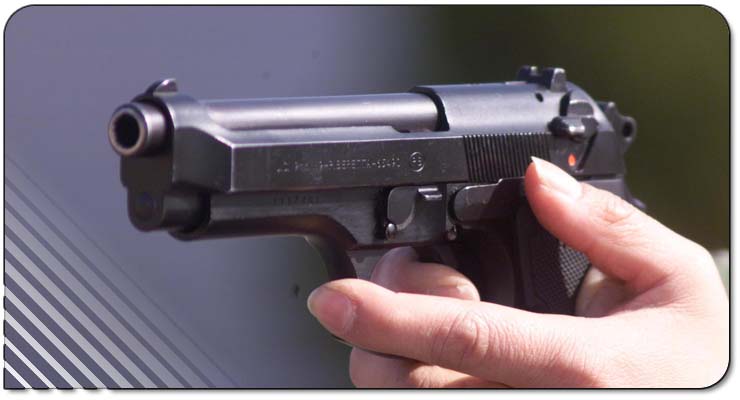 Description:
Features: The M9 is a light weight, semiautomatic pistol manufactured by Beretta and designed to replace the M1911A1 .45 caliber pistol and .38 caliber revolvers. The M9 has redundant automatic safety features to help prevent unintentional discharges. It can be fired in either double or single action mode and can be unloaded without activating the trigger while the safety is in the "on" position. The M9 pistol has a 15-round magazine, and may be fired without a magazine inserted. This weapon can have the hammer lowered from the cocked, "ready to fire," position to the uncocked position without activating the trigger by placing the thumb safety on the "on" position.

The M9 pistol has a short recoil system using a falling locking block. The pressure developed by the expanding gasses of a fired round recoils the slide and barrel assembly. After a short distance, the locking block is disengaged from the slide, the barrel stops against the frame, and the slide continues its rearward movement. The slide then extracts and ejects the fired cartridge case, cocks the hammer, and compresses the recoil spring. The slide moves forward, stripping the next cartirdge from the magazine and feeds it into the chamber. After the last cartridge has been fired and ejected, the slide and barrel assembly will remain open by the magazine follower pressing up on the slide stop lever.

Background: The 9mm Pistol Program was a Congressionally-directed Non-Developmental Initiative to standardize DoD with NATO and field one handgun for all United States armed services. Beretta of Italy was awarded a multi-year contract for delivery of over 500,000 pistols. The contract award stipulated that production of the weapon must transition from Italian to US production after two years. The US Army is the lead service in this program.
PHOTOS
Click on images for larger view
More Photos: 1 | 2 | 3 | 4 | 5 | 6 | 7 | 8 | 9 | 10