CG 62 | USS CHANCELLORSVILLE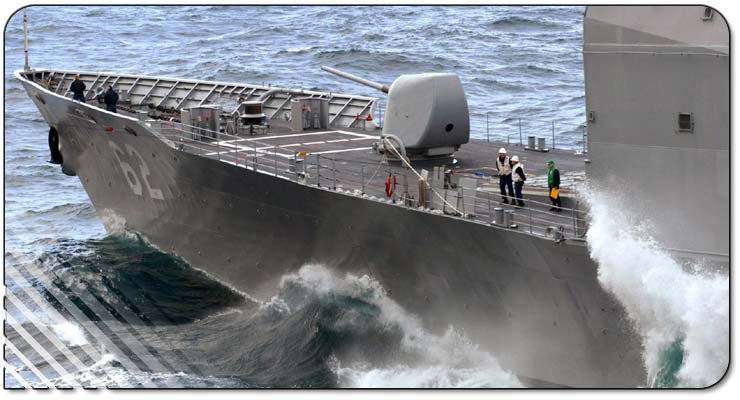 Namesake:
U.S. Civil War battle of Chancellorsville

CG 62 is the first U.S. Navy ship to bear the name CHANCELLORSVILLE in commemoration of the Civil War battle fought just south of the Rappahannock and Rapidan Rivers in Virginia. The battle, which occurred May 1-5, 1863, pitted the Federal Army of the Potomac under the command of General Joseph Hooker against General Robert E. Lee's Confederate Army of Northern Virginia. Confederate forces under General Robert E. Lee held the Union Army in position while a flanking movement by troops under the command of Confederate Lieutenant General "Stonewall" Jackson Union enveloped and broke the Union line. The Confederate Army's success at Chancellorsville prompted a Confederate thrust into Pennsylvania in the summer of 1863 -- a thrust that ended in a Union victory in the Battle of Gettysburg.

Historical Notes:

USS CHANCELLORSVILLE was commissioned at Ingalls Shipbuilding in Pascagoula, MS, on 4 November 1989. She deployed from 1 March 1991 to 27 August 1991 to the Arabian Gulf in support of Operation DESERT STORM.

CHANCELLORSVILLE deployed from 19 February 1993 to 19 August 1993 to the Western Pacific and Arabian Gulf as part of the NIMITZ Battle Group. On 26 June 1993, CHANCELLORSVILLE launched strikes on the Iraqi Intelligence Center in Baghdad with nine Tomahawk missiles in retaliation for the aborted assassination attempt on former President Bush.

On 28 April 1995, and until 28 October 1995, CHANCELLORSVILLE deployed to the Western Pacific and Arabian Gulf.

From 6 November 1996 until 6 February 1997, USS CHANCELLORSVILLE deployed to the Caribbean and Eastern Pacific in support of joint counter-narcotics operations. During this deployment, USS CHANCELLORSVILLE rescued the crew of an Ecuadorian-flagged fishing vessel on December 18 in the Southern Caribbean Sea, which had reportedly been adrift for 10 days. Upon its return home, USS CHANCELLORSVILLE underwent its first major overhaul, from 24 March 1997 - 17 December 1997. Southwest Marine Incorporated, San Diego, CA was awarded a $10,361,269 firm-fixed-price contract for the Regular Overhaul (ROH) of USS CHANCELLORSVILLE (CG 62). Work was performed in San Diego, CA.

On July, 7 1998, USS CHANCELLORSVILLE changed homeport, from San Diego, CA, to Yokosuka, Japan joining Battle Force Seventh Fleet as part of the U.S. Forward Deployed Naval Force. It arrived in Yokosuka on 11 August 1998. From 28 September to 13 November 1998, CHANCELLORSVILLE participated in multinational operations in the Sea of Japan, including the International Fleet Review.

From March 2, 1999 to April 5, 1999, USS CHANCELLORSVILLE deployed in the Western Pacific region with the USS KITTY HAWK Battle Group. Exercises it took part in included the Multinational Training Exercise (MTX) '99 and Tandem Thrust '99.

On April, 6 1999, CHANCELLORSVILLE deployed to the Arabian Gulf in company with USS KITTY HAWK and USS CURTIS WILBUR in support of Operation Southern Watch. It took part in Exercise Cobra Gold with the military forces of the Republic of Thailand in May. It returned to Yokosuka, Japan, on January 5, 2000.

While on a regularly scheduled two-month deployment to the Western Pacific Ocean, the USS KITTY HAWK (CV 63) and Carrier Air Wing (CVW) 5, accompanied by CHANCELLORSVILLE and the destroyer USS O'BRIEN (DD 975), took part in Exercise Cobra Gold 2000. From May 9-23, Exercise Cobra Gold 2000 tested the U.S. and Thai military to ensure regional peace. It also strengthened the ability of the Royal Thai armed forces to defend themselves and respond to regional contingencies. This annual joint exercise was one of the largest military exercises involving U.S. forces in the Pacific Command this year, and it involved units from the Thai and U.S. Air Force, Army, Navy and Marines. Armed forces from Singapore also participated for the first time that year.

CHANCELLORSVILLE made a port call in Qingdao, People's Republic of China from August 2, 2000 to August 5, 2000. USS CHANCELLORSVILLE then took part, with the USS KITTY HAWK Battle Group, in the 39th Exercise Foal Eagle from October 24 to November 1, 2000. Following this, the ship took part in ANNUALEX 12G, a routine annual bilateral maritime exercise between the Japan Maritime Self Defense Force (JMSDF) and the U.S. Navy, starting on November 8 and ending on November 17 in waters around Japan. The exercise was designed to improve both navies' capabilities for coordinated and bilateral operations in the defense of Japan, with ANNUALEX 12G, in particular, focused on enhancing military-to-military relationships improving command and control and air, undersea and surface warfare. USS CHANCELLORSVILLE then took part in Missile exercise (MISSILEX) 01-1 which was held November 17-18 as part of a coordinated task group operation. During the exercise, CHANCELLORSVILLE fired SM-2 missiles, in addition to it guns. It later took part in Exercise Keen Sword.

CHANCELLORSVILLE left on March 2, 2001 for an extended Spring Cruise, visiting Singapore, Thailand, Saipan and Sydney, Australia. It returned to Yokosuka on June 11, 2001.

CHANCELLORSVILLE went into dry dock for an overhaul in the fall of 2001. Included among the upgrades was a quadrupling of the ship's Internet acccess bandwidth, to 128K, and with 75 more computer terminals to be installed onboard.

USS CHANCELLORSVILLE deployed with the KITTY HAWK (CV 63) from Yokosuka on September 30, 2001, as part of Operation Enduring Freedom.
Ship's Crest: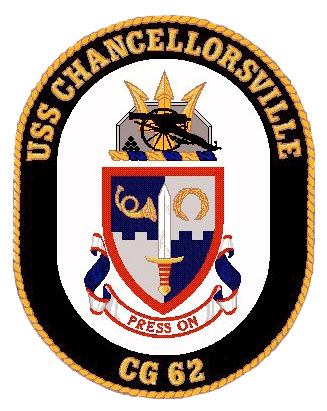 The Shield: Dark blue and gold are the traditional Navy colors. The dark blue and gray refer to the colors of the Union and Confederate Armies that were engaged at the Civil War battle of Chancellorsville. The predominate gray refers to General Robert E. Lee's spectacular military strategies and his dominance in this battle. Lee's victory came at heavy cost, however, because General Thomas J. "Stonewall" Jackson was mortally wounded. The inverted wreath commemorates General Jackson's death. The embattled division and separation of the Union and Confederate colors represent the country divided. The battlements, which resemble a stone wall, allude to both General Jackson and the fortress- like quality of an AEGIS ship. The border, red for valor and bloodshed, symbolizes the Union's attempt to keep the country together. The sword stands for combat readiness; its upright position emphasizes vertical launch capabilities of USS CHANCELLORSVILLE. The bugle horn, adapted from Civil War insignia, echoes the favorite words of General Jackson in calling for soldiers to PRESS ON.

The Crest: The trident is symbolic of sea power. The three tines of the trident represent USS CHANCELLORSVILLE's anti-air, anti-surface and anti-submarine warfare capabilities. The AEGIS shape and Civil War cannon embody new and old weaponry.

PHOTOS
Click on images for larger view
More Photos: 1 | 2 | 3 | 4 | 5 | 6 | 7 | 8 | 9 | 10 | 11 | 12 | 13 | 14 | 15 | 16 | 17 | 18 | 19 | 20 | 21 | 22 | 23 | 24 | 25