CG 65 | USS CHOSIN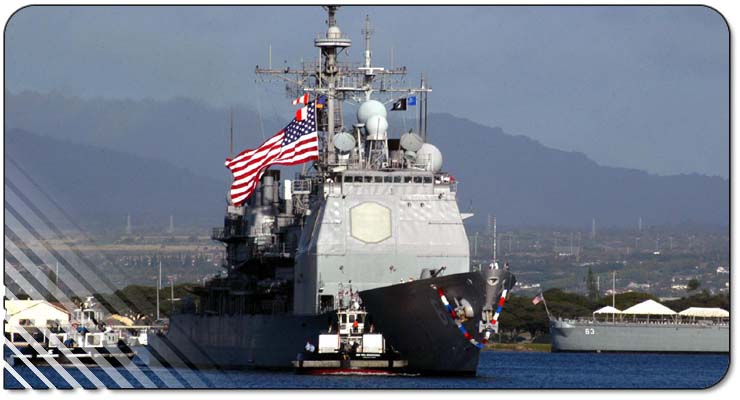 Namesake:
Not yet available

Not yet available

Historical Notes:

The construction of CHOSIN began on August 3, 1987 by Ingalls Shipbuilding division of Litton in Pascagoula, Mississippi. Her keel was laid on July 2, 1988. She was launched on September 1, 1989 and Christened on October 14, 1989.

July 30 marked CHOSIN's first of many underway periods as she sailed into the Gulf of Mexico for her first sea trials. Upon her completion of the sea trials, she was delivered to the Navy on November 5, 1990 in preparation for commissioning in Pascagoula, Mississippi, on January 12, 1991.

After reporting to her new homeport in Pearl Harbor, Hawaii, CHOSIN began preparation to become an active fleet asset. Upon completion of Refresher Training in November of 1991, CHOSIN chopped to THIRD fleet for operational duties as part of the RANGER Battle Group.

On August 10, 1992 CHOSIN set sail on her maiden deployment. Most of the Underway time was spent in the Northern Persian Gulf in support of Operation Southern Watch. CHOSIN's mission was to assist in protecting the southern Iraqi no-fly zones directed by United Nations Security Council resolutions. Upon Completion of that deployment, CHOSIN returned to homeport on February 10, 1993.

CHOSIN embarked on her second six month deployment to the Western Pacific and Arabian Gulf on November 15, 1994. Operating as part of the CONSTELLATION Battle Group, she carried out various assignments in support of Operations Desert Storm and Southern Watch. CHOSIN conducted port visits in Yokosuka, Japan; Pusan, Korea; Hong Kong; Singapore; Dubai and Jebel Ali, United Arab Emirates; as will as Perth, Sydney, and Newcastle, Australia. While in the Gulf, the War Dragon's primary mission was that of Air Warfare Commander. In this role, CHOSIN was responsible for the air defense of the Battle Group. CHOSIN's versatility and that of her crew ensured the successful completion of all assigned duties. The ship returned to its homeport in May 1995.

USS CHOSIN took part in Pacific Joint Task Force Exercise (PACJTFEX) 97-1, from February 10 through 21, 1997 off the Southern California coast. PAC JTFEX 97-1 was part of a series of exercises previously named "FLEETEX". The name reflected the increasing focus on preparing naval forces for joint operations with other U.S. military services.

In April 1997, CHOSIN got underway for her next deployment. As the CONSTELLATION (CV 64) Battle Group entered the Arabian Gulf on May 16, 1997, USS CHOSIN turned over the duties of being regional Air Defense Commander to USS LAKE ERIE (CG 70) and reported for maritime interception duties in the far northern Arabian Gulf. While patrolling off the coast of Iraq, CHOSIN was supporting the UN resolutions that prohibit the import or export of materials with Iraq, except for food and medicine. Within three days, CHOSIN intercepted and boarded five vessels, including three large cargo carriers.

In August 1997, USS CHOSIN completed two major Theater Ballistic Missile Defense (TBMD) exercises in the Arabian Gulf. The exercises, named ARABIAN SKIES, were directed by Commander Cruiser Destroyer Group 1 and involved Army Patriot missile batteries, Air Force data relay stations, CHOSIN, USS LAKE ERIE (CG 70), USS JOHN PAUL JONES (DDG 53) and Carrier Air Wing 2 operating from USS CONSTELLATION (CV 64). During the exercises, the CONSTELLATION Battle Group demonstrated a viable TBMD capability using the existing command and control architecture while CHOSIN provided advance notification to other battle group assets and to an in-theater Army Patriot missile battery. This advance notice enabled the Patriot battery to bring their weapons system online quicker, and focus their search efforts toward simulated incoming missiles. The exercises used Tactical Data Link-A (TADIL- A) for most data exchange. CHOSIN was a prototype for the future technology exchange, termed TADIL-J, is also known as the Joint Tactical Information Data System (JTIDS). One important feature TADIL-J will provide is the ability to pass projected impact point for theater ballistic missiles. This capability will dovetail into the existing TBMD architecture and improve its flexibility, while providing the civilian populace quicker accress to vital information.

CHOSIN, with the CONSTELLATION, departed the Gulf on August 17, 1997, on schedule to continue its routine six-month deployment in the waters of the Indian and Pacific Oceans.

USS CHOSIN left Pearl Harbor in mid-June 1999 for a routinely scheduled deployment with the USS CONSTELLATION (CV 64) Battle Group and the USS PELELIU (LHA 5) Amphibious Ready Group, to the Western Pacific and Arabian Gulf. During that six-month deployment, the crew of the "War Dragons" was the Air Defense Commander for the USS CONSTELLATION (CV 64) Battle Group, supported the enforcement of oil sanctions against Iraq, traveled more than 44,000 miles, saw operations around Japan, Korea, the South China Sea, Indian Ocean, and Arabian Gulf, and visited ten ports in seven different countries.

CHOSIN made port visits to Pusan, Korea; Yokosuka, Japan; Singapore; Phuket, Thailand; Jebel Ali, United Arab Emirates; and Bahrain. The end of CHOSIN's deployment included three port visits in Australia to the cities of Albany, Melbourne and Sydney. Chosin's last stop was in Pago Pago, American Samoa. It returned to its homeport on December 17, 1999.

During this deployment, while conducting Maritime Interception Operations in support of United Nations sanctions against Iraq, USS CHOSIN was able to uphold a time-honored code of 'Assisting fellow sailors in peril at sea' by rescueing eight stranded Iraqi fishermen.

With their boat's rudder broken and unable to steer, the Iraqi fishermen had been stranded for six days in the Northern Arabian Gulf more than 25 miles from the nearest land. With only three days of food and water remaining, and no radio, the fishermen frantically waved red rags as the Pearl Harbor-based cruiser CHOSIN passed by.

Upon spotting the distressed vessel, CHOSIN's Officer of the Deck, Lt. Joshua Brooks, immediately dispatched the ship's inflatable lifeboat to investigate. The fishermen at first appeared to be frightened by the presence of American Sailors. "As we made our approach, they realized we were an American ship and they began waving for us to go away", said Brooks.

GSM3 Mohammad Betemour, who spoke fluent Arabic, was able to act as interpreter. "We were the first Americans they had ever met", said Betemour, a native of Jordan. "They had been told that Americans were violent, seven feet tall and full of muscles."

While at first apprehensive, the fishermen soon realized they had nothing to be afraid of. According to the fishermen, during the time they were stranded, two other ships had passed by them and had not stopped to render aid. They were surprised that an American warship, a country they had been led to believe hated them, would stop and take the time to help. Once the nature of the casualty had been determined, a repair team was dispatched to examine the dhow boat and come up with a plan for repairing it so the fishermen could safely make their way home.

USS CHOSIN assumed duties as the air defense commander for the joint Japanese and American Bi-lateral Force (BIF) in support of Rim Of the Pacific Exercise 2000.

In May 2000, two weeks following a Ship's Selected Restricted Availability (SRA) that saw significant modifications to USS CHOSIN's AEGIS Combat System, Communications suite and Electronic Warfare Systems, the crew of CHOSIN underwent a Comprehensive Assessment of Readiness and Training (CART). Following this, CHOSIN embarked a cadre of air defense experts from AEGIS Training and Readiness Command (ATRC), Pearl Harbor, to provide Force Air Defense and Undersea Warfare training to CHOSIN's Air Defense and Undersea Warfare watch standers. It then made a port visit to Acapulco, Mexico.

USS CHOSIN deployed on March 16, 2001, for a six-month Western Pacific deployment, as part of the CONSTELLATION Battle Group. The entire battle group trained for six months in preparation for this deployment through a series of increasingly exercises and operations. Those pre-deployment exercises culminated in February 2001 with the successful completion of Joint Task Force Exercise 01-1. CHOSIN operated in support of Operation Southern Watch in the Arabian Gulf region for 14-weeks and made visits to Australia, United Arab Emirates, Singapore and Hong Kong. In August 2001, CHOSIN arrived in Dili, East Timor to assist the United States Support Group East Timor (USGET) with humanitarian and civic action assistance projects. USS CHOSIN returned home to Pearl Harbor on September 14, 2001.

CHOSIN's awards include: the Battle Efficiency Award for Excellence, National Defense Service Medal, the Southeast Asia Service Medal, and the Sea Service Deployment Ribbon.
Ship's Crest: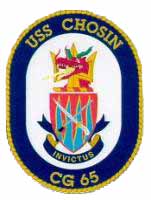 The Shield: On the shield, the conflict between invading Communist forces from the North and the UN offensive from the south, is symbolized by the interaction of red and light blue on the shield. Red also stands for courage and bloodshed; the gold denotes excellence and high ideals. The Marine Corps and United States Armyare represented by the swords, raised at the ready. The rays symbolize the flame of combat and the frigid environment in the area of the Chosin Reservoir, from which the ship takes its name.

The Crest: The crest's demi-dragon, breathing fire, represents the threat from China. The demi-trident symbolizes Naval Power; gold represents excellence and courage in battle.

Motto: The ship's motto is INVICTUS is Latin for "invincible" or "unconquered".
PHOTOS
Click on images for larger view
More Photos: 1 | 2 | 3 | 4 | 5 | 6 | 7 | 8 | 9 | 10 | 11 | 12 | 13 | 14 | 15 | 16 | 17 | 18 | 19 | 20 | 21 | 22 | 23 | 24 | 25