SSBN 728 | USS FLORIDA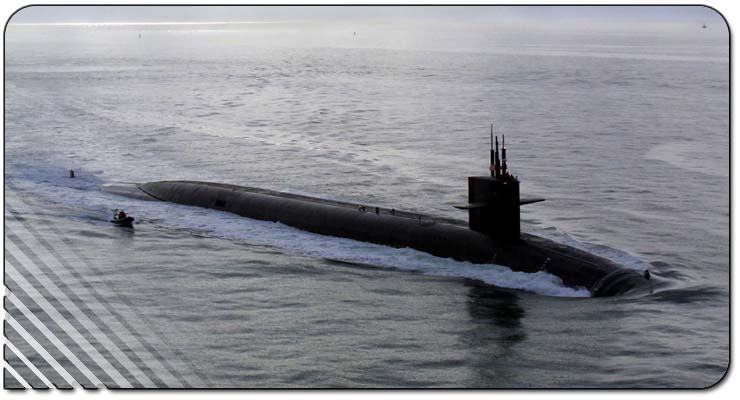 Namesake:
Legacy name

FLORIDA is the first submarine and the sixth U.S. Naval vessel to bear the name. The first FLORIDA was a survey sloop that served on survey duty off of the southern coast between 1824 and 1831. The second, a 214-foot sidewheel steamer, operated from 1861-67. She saw Civil War Service as a unit of the South Atlantic Blockading Squadron patrolling the coasts of South Carolina, Georgia and Florida.

At least two ships named FLORIDA were part of the Confederate Fleet during the Civil War. One was 171-foot blockade runner, the other a 191foot cruiser that captured an impressive 37 Union ships. The third predecessor was a steam frigate first named WAMPANOAG, then renamed FLORIDA in 1869. She was sold in 1885. The fourth, a 252-foot monitor (#9), served from 1901-1922 as a training vessel and submarine tender.

The fifth FLORIDA, (BB 30), a 521-foot, 21,000-ton battleship, was commissioned in 1911. Part of Battleship Division 9 during World War I, she served with the British Grand Fleet, performing convoy duty. Following the war, she served as a training ship, then was scrapped under the terms of the London Naval Treaty of 1930. The USS FLORIDA (SSBN 728) is the third of the Ohio-Class submarines.

Historical Notes:

The keel of the USS FLORIDA was laid on the occasion of the nation's Bicentennial, July 4, 1976, at General Dynamics' Electric Boat Division. The ship was unnamed at the keel-laying ceremony and remained that way until January 19, 1981, when the Secretary of the Navy officially assigned it the name FLORIDA.

The initial ship's crew formed the precommissioning unit on July 8,1980. The first shipboard watches were stationed on February 14,1981 to support the operational control transfer of engineering systems to ship's force control.

On November 14, 1981, the FLORIDA was launched. Following a year of construction and testing, the ship's nuclear reactor was initially taken critical on November 13,1982. The ship went into service and the crew moved onboard on January 21, 1983. FLORIDA commenced initial builders' sea trials on February 21, 1983 and was subsequently delivered to the Navy on May 17, 1983 - 43 days ahead of schedule. The ship was commissioned on June 18, 1983.

Both crews successfully completed the demonstration and shakedown operations, each culminated by the successful launch of a Trident C-4 missile. FLORIDA transited the Panama Canal in February and arrived in Bangor, Washington on 25 March 1984. She completed her first strategic deterrent patrol on July 25, 1984. As of November 1994, FLORIDA has successfully completed 38 strategic deterrent patrols.

The FLORIDA has won four Submarine Squadron Battle Efficiency awards (1988, 1989, 1991, and 1999) and in 1991 was selected as the top ship in the Pacific Fleet by receipt of the MARJORIE STERRETT BATTLE SHIP FUND AWARD.
Ship's Crest: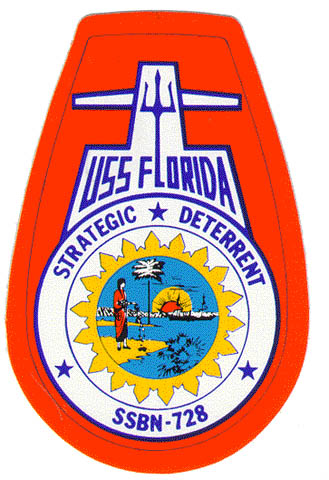 Supporters: Not yet available

The Shield: Not yet available

The Crest: Not yet available

Motto: Not yet available
PHOTOS: SSBN 728
Click on images for larger view
More Photos: 1 | 2 | 3 | 4 | 5 | 6 | 7 | 8 | 9 | 10
---
PHOTOS: SSGN 728
Click on images for larger view
More Photos: 1 | 2 | 3 | 4 | 5 | 6 | 7 | 8 | 9 | 10