SSBN 731 | USS ALABAMA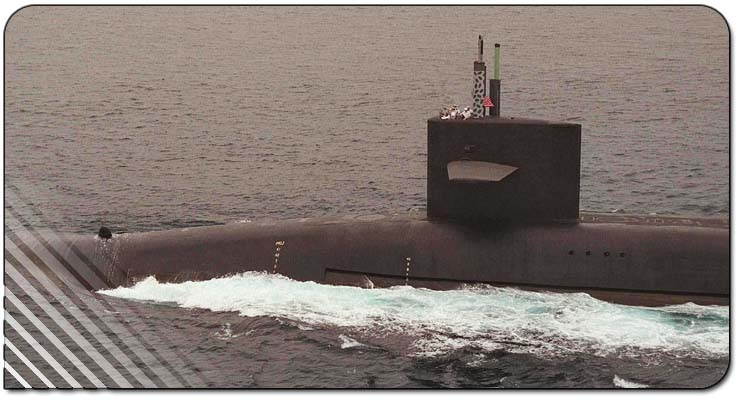 Namesake:
Legacy name

USS ALABAMA, an OHIO Class Fleet Ballistic Missile submarine, is the fifth United States Navy ship to bear the name. The first two ships named USS ALABAMA were side-wheeled steamers. The first, built in 1838, saw no naval action, but operated as a troop carrier for the U.S. Army during the War with Mexico (1846-1848). The second USS ALABAMA, pictured here in an illustration by Erik Heyl, was a built in New York in 1850 and served as a merchant vessel of the same name before and after the Civil War. During the Civil War, she was commissioned USS ALABAMA and acted as a troop and cargo transport throughout the war. The second USS ALABAMA was scrapped in 1878.

CSS ALABAMA was built in Portsmouth, England, outfitted in the Azores and participated in coastal bombardments during the Civil War in support of the Confederate States of America (CSA). During her brief, but infamous history (1861-1864) she sank or captured 68 vessels. Although she saw extensive action in the Western Atlantic, she never actually entered a United States port. The CSS ALABAMA was sunk in a skirmish off the coast of France and is now used as a training platform for French Naval Divers.

The third USS ALABAMA (BB-8) was the first true United States ship of the line to carry the name. She was launched on May 18, 1898, and made cruises with the Atlantic Squadron to the Mediterranean and to the West Indies where, in 1907, she participated in the pacification of Cuba. She was part of the Great White Fleet which circumnavigated the globe in 1908 and she saw service as flagship of Division 1, Battleship Force, Atlantic Fleet, throughout World War I. Part of her silver service has been presented to USS ALABAMA (SSBN 731) and is now on permanent display in the ship's wardroom. Between 1920, when BB-8 was decommissioned, and the outbreak of hostilities in World War II, no warship bore the name ALABAMA. In response to the devastation of the U.S. Battleship Fleet in Pearl Harbor in December 1941, production of this class was accelerated and on February 16, 1942, the battleship USS ALABAMA (BB-60) was launched at the Norfolk Navy Yard. During 1942, she operated with the British Home Fleet protecting convoys to Great Britain and Russia. In August 1943, she was assigned to the Pacific Fleet, where she provided fire support and anti-aircraft screening for fast carrier task forces. In a period of 23 months she participated in over 20 operations and earned nine battle stars. USS ALABAMA (BB-60) was decommissioned after World War II and was converted in 1964 to a permanent memorial in Mobile, Alabama, honoring those who defend freedom.

Historical Notes:

USS ALABAMA (SSBN 731) was commissioned on 25 May 1985 and assigned to Commander Submarine Force Pacific in early 1986. She has continued the proud traditions established by her predecessors having been consistently recognized for superior performance throughout its history. ALABAMA earned the distinction of having completed the 100th TRIDENT Strategic Deterrent Patrol in September 1988. After completing 47 strategic deterrent patrols, ALABAMA underwent an Extended Refit Period in 1999 and returned to service with numerous tactical and survivability upgrades. In the spring of 2000, ALABAMA celebrated its 50th Strategic Deterrent Patrol and its 15th birthday.

USS ALABAMA (SSBN 731) is the sixth TRIDENT class nuclear-powered fleet ballistic missile submarine, and the fifth United States ship to bear the name. The keel was laid 14 October 1980, and the crew was formed in July 1983. On 19 May 1984, Mrs. Barbara Dickinson, wife of The Honorable William L. Dickinson, United States Representative from Alabama, christened ALABAMA during launching ceremonies held in Groton, Connecticut. Builders Sea Trials were conducted between February and April 1985. Each sea trial set a record for efficiency and the ship was delivered sixty-eight days early. On 25 May 1985, USS ALABAMA was commissioned at Naval Underwater Systems Center, New London, Connecticut. Vice Admiral B. M. Kauderer, USN, was the Commissioning Officer. The principal speakers included Congressman Dickinson; The Honorable Jeremiah Denton, United States Senator from Alabama; Admiral Kinnaird R. McKee, USN; and Admiral Thomas H. Moorer, USN (Ret.), a native Alabamian and former Chief of Naval Operations and Chairman of the Joint Chiefs of Staff.

ALABAMA then commenced shakedown operations and underwent a series of ship-wide inspections. The Blue crew completed a Demonstration and Shakedown Operation (DASO) and launched the ship's first TRIDENT (C-4) missile. In July 1985, the Gold crew relieved the Blue crew and completed the shakedown schedule. In October 1985 the Blue crew relieved the Gold crew to take USS ALABAMA back into the shipyard at Electric Boat for Post Shakedown Availability (PSA). Following PSA, USS ALABAMA transited to Mobile in February 1986 to participate in Mardi Gras festivities. The Gold crew relieved the Blue crew in Mobile and commenced the voyage to their new homeport in Bangor, Washington.

In April 1986, both crews completed the first refit at Submarine Base, Bangor, and the Blue crew subsequently conducted ALABAMA's first Strategic Deterrent Patrol. The Gold crew conducted its first patrol in the Summer/Fall of 1986.

In May 1988, the Gold crew conducted a highly successful Fleet Operational Test Missile firing, launching two TRIDENT I (C-4) missiles. On 1 September 1988, USS ALABAMA moored at Bangor, Washington, to complete the ship's 9th patrol and the 100th Strategic Deterrent Patrol by a TRIDENT submarine. An official ceremony commemorating the event was held pierside with then Under Secretary of the Navy, H. Lawrence Garrett III, heading the official greeting party.

1987: Battle Efficiency "E" (both)
1987: Anti-Submarine Warfare "A" (Gold)
1987: Communications "C" (Gold)
1987: Supply "E" (Blue)
1987: Ney Award (Small Mess Afloat) (Blue)
1988: Anti-Submarine Warfare "A" (Blue)
1989: Deck Seamanship (Blue)
1990: Battle Efficiency "E" (both)
1990: Strategic Weapons "S" (Blue)
1990: Damage Control "DC" (Gold)
1990: Engineering "E" (Blue)
1992: Damage Control "DC" (Blue)
1992: Engineering "E" (Blue)
1992: Communications "C" (Blue)
1992: Administration "A" (Blue)
1995: Battle Efficiency "E" (both)
1995: Strategic Weapons "S" (Gold)
1995: Tactical "T" (Blue)
1995: Damage Control "DC" (Blue)
1996: Engineering "E" (Gold)
1997: Engineering "E" (Gold)
1998: Tactical "T" (Blue & Gold)
1998: Strategic "S" (Blue)
1998: Silver Anchor (Gold)


USS ALABAMA was also selected for the 1995 U.S. Strategic Command "Omaha" Trophy. This award is given to the top performing ballistic missile asset in the U.S. Strategic Command. Additionally, the Gold crew was selected by the Bremerton Chapter of the Navy League for the 1990 "Outstanding Submarine Performance Award."
Ship's Crest: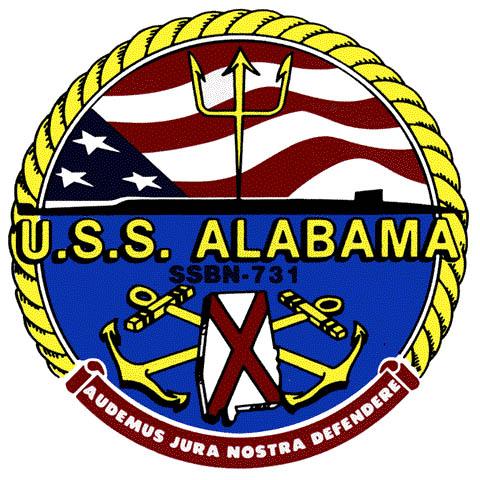 Supporters: Not yet available

The Shield: Not yet available

The Crest: Not yet available

Motto: Not yet available
PHOTOS
Click on images for larger view
More Photos: 1 | 2 | 3 | 4 | 5 | 6 | 7 | 8 | 9 | 10