SSBN 732 | USS ALASKA
Namesake:
Legacy name

USS ALASKA is the first submarine to bear the name. Her predecessors included a gunboat, a minesweeper and a battle cruiser.

The gunboat, which served from 1869-1883, saw service with the Asiatic, European and Pacific Squadrons.

The second Alaska, built as a steam fishing vessel in 1881, was chartered by the Navy in September, 1918. She was converted to a minesweeper and operated out of Charleston, South Carolina until decommissioned and returned to her owner in January, 1919.

The third Alaska (CB-1) joined the fleet in 1944 and saw combat service in the final months of World War II as part of the Pacific Fleet. One of the only ships of her kind, the 808 foot battle cruiser participated in the invasions of Iwo Jima and Okinawa, raids on the Honshu and Nansei Shotos and operations against mainland Japan. She received three battle stars for action against her nation's enemies. Following the war, ALASKA remained in the Far East supporting the occupation of Japan, China and Korea until November, 1945. She was decommissioned in 1947.

Historical Notes:

USS ALASKA (SSBN 732) is the seventh TRIDENT Class Nuclear Powered Fleet Ballistic Missile Submarine and the fourth United States Navy ship to bear the name.

The keel for USS ALASKA (SSBN 732) was laid on 9 March 1983. On 12 January 1985, Mrs. Catherine Ann Stevens the wife of Senator Ted Stevens from Alaska, christened the ship during ceremonies held in Groton, Connecticut. On 25 January 1986, the ship was commissioned at the Naval Underwater Systems Center, New London, Connecticut. Vice Admiral B.M. Kauderer,, USN, Commander, Submarine Force, U.S. Atlantic Fleet, served as the Commissioning Officer while Senator Ted Stevens of Alaska was the principal speaker.

In September 1986, USS ALASKA began her voyage to Bangor, Washington. Following a transit of the Panama Canal, the ship embarked 96 fathers, sons and brothers and eleven Alaskans, including Governor Bill Sheffield, before proceeding on to Bangor.

USS ALASKA arrived at its new homeport in October 1986 and the Blue Crew conducted the first Strategic Deterrent Patrol in early 1987.

In July 1987, both crews visited their honorary homeports; Seward for the Blue Crew; Fairbanks and Fairbanks North Star Borough for the Gold Crew.

Since Joining Submarine Squadron 17, USS ALASKA has conducted over 35 deterrent patrols. A key element of our nation's strategic deterrent forces, she continues the proud tradition established by her predecessors.
Ship's Crest: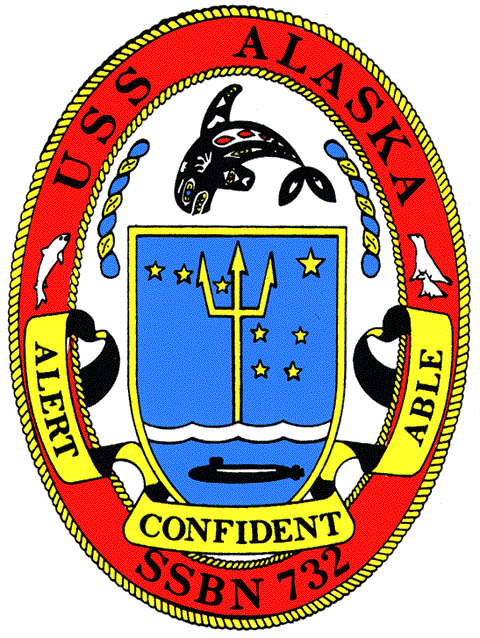 Supporters: Not yet available

The Shield: Not yet available

The Crest: Not yet available

Motto: Not yet available
PHOTOS
Click on images for larger view
More Photos: 1 | 2 | 3 | 4 | 5 | 6 | 7 | 8 | 9 | 10