SSN 21 | USS SEAWOLF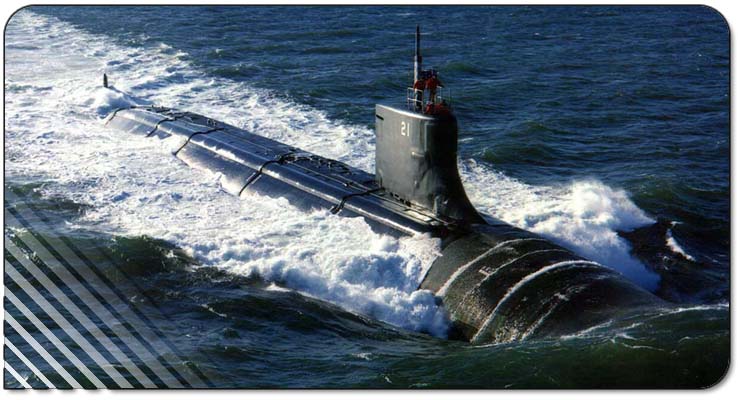 Namesake:
USS SEAWOLF (SS 28/H 1)
(SS-28), originally Seawolf and renamed 17 November 1911, was built by the Union Iron Works of San Francisco; launched 6 May 1913; sponsored by Miss Lesley Jean Makins; and commissioned at Mare Island Navy Yard on 1 December 1913, Lt. Henry M. Jensen in command.
The new submarine was attached to the 2d Torpedo Flotilla, Pacific Fleet, and operated along the West Coast out of the submarine base at San Pedro. On various exercises and\patrols she travelled the coast from Los Angeles to lower British Columbia, often in company with H-2 and sometimes H-3.
Sailing from San Pedro on 17 October 1917, she reached New London 22 days later via Acapuleo, Balboa, Key West, Charleston and Philadelphia. For the remainder of the war, she was based there and patrolled Long Island Sound, frequently with officer students from the submarine school on board.
H-l and H-2 sailed for San Pedro on 6 January 1920, transiting the Panama Canal 20 February via Norfolk, Key West and Havana. On 12 March 1920, as H-l made her way up the coast, the submarine went aground on a tricky shoal off Santa Margarita Island, Oalif. Four men, including the commanding officer, Lt. Comdr. James R. Webb, were killed as they tried to reach shore. Vestal, a repair ship, pulled H-l off the rocks in the morning of 24 March, only to have her sink 45 minutes later in some 50 feet of water. Salvage was abandoned. Her name was struck from the Navy List 12 April 1920, and her hulk sold for salvage scrap in June 1920.
USS SEAWOLF (SS 197)
The keel was laid by Portsmouth Naval Shipyard, Portsmouth, NH on 27 September 1938 and Launched on 15 August 1939. She was sponsored by Mrs. Edward C. Kalbfus. USS SEAWOLF (SS-197) was commissioned 1 December 1939 with LCDR Frederick B. Warder in command.
During her 14 wartime patrols, USS SEAWOLF sank 27 and damaged 13 enemy ships for a total ships sunk tonnage of 108,600 and 69,600 for ships damaged. On the first day of the war she started patrolling off northern Luzon and returned with no damage to her credit. On her 2nd patrol through the passage from Manila to Port Darwin she did not encounter any enemy ships. On her 3rd patrol in January 1942, SEAWOLF transported a cargo of .50 caliber anti-aircraft ammunition to Corregidor and passengers to Surabaya.
However, on her 4th patrol in the Lompoc Straits, SEAWOLF sank an enemy transport and damaged three light cruisers, two transports and a freighter. For this she received the Navy Unit Commendation. On her 5th patrol, she sank a freighter in the Philippines area, and on her 6th patrol she sank a tanker and freighter-transport and damaged another tanker in the Makassar Strait.
On her 7th patrol, SEAWOLF made the passage from Fremantle to Pearl Harbor and patrolled at Davao Gulf, Palau, and YAP enroute. On 3 November 1942 she sank the Japanese freighter-transport Sagami Maru 40 miles inside the mouth of Davao Gulf. On this same patrol, she also sank two freighter-transports and damaged a freighter. On her 8th patrol in the Bonins-Formosa area, SEAWOLF sank a large freighter, tanker, and two sampans. On 23 April 1943 she sank a converted Japanese destroyer. On her 9th patrol while in transit to the Chinese coast off northern Formosa, she sank a freighter-transport, a sampan and damaged a destroyer escort.
During August and September 1943, SEAWOLF patrolled the East China Sea for her 10th patrol and sank three large freighters, two sampans and damaged a third sampan. On her 11th patrol in the South China Sea she sank a large freighter transport, an unidentified ship and damaged a freighter.
On her 12th patrol, in the East China Sea north of Formosa, SEAWOLF sank a freighter transport, three freighters and damaged three other freighters. Her 13th patrol was a photographic reconnaissance mission of Palau, where she also rescued two downed aviators from a U.S. carrier raid.
To begin her 15th and final patrol, USS SEAWOLF, under the command of LCDR A. M. Bontier, left Brisbane on 21 September 1944 and arrived at Manus on 29 September. She was directed to carry certain stores and Army personnel to the east coast of Samar, and she left Manus that same day.
On 3 October 1944, SEAWOLF and USS NARWHAL (SS-167) exchanged SJ radar recognition signals at 0756. An enemy submarine attacked and sank the USS SHELTON (DE407). Three of the four friendly submarines in the vicinity of this attack reported their positions as directed, but SEAWOLF was not heard from. On 4 October 1944, when again directed to report her position, SEAWOLF did not respond.
Unaware of other friendly submarines in the area, the USS ROWELL (DE403) and U. S. aircraft had attacked a submarine in the vicinity of the SHELTON, and it was thought that SEAWOLF must be held down by these antisubmarine operations. It is possible that SEAWOLF had been the attacked submarine.
The report from ROWELL indicates that an apparently lethal attack was conducted in conjunction with a plane that marked the spot with dye. ROWELL established sound contact on the submarine, which sent long dashed and dots which ROWELL states bore no resemblance to the existing recognition signals. After one of several hedgehog attacks a small amount of debris and a large air bubble were seen.
It has been established that the Japanese submarine RO-41 sank SHELTON on 3 October 1944 and was able to return to Japan. In addition, there is no attack listed in the Japanese report of antisubmarine attacks which could account for the loss of the SEAWOLF. In view of these facts, it is possible that SEAWOLF was sunk by friendly forces in an antisubmarine attack on 3 October 1944. It is also possible that she was lost to an operational casualty or as a result of an unrecorded enemy attack.
USS SEAWOLF (SS 197)
The USS SEAWOLF (SSN 575) was the finest ship to ever log it out underway on nuclear power. The keel of world's second nuclear powered submarine was laid September 15, 1953, at the General Dynamics Corporation's Electric Boat Division, Groton, Connecticut. Mrs. W. Sterling Cole christened the SEAWOLF at the launching ceremony on July 21, 1955 under the command of CDR Richard B. Laning, USN.
The atomic reactor powering the SEAWOLF differed from that of the NAUTILUS, it used liquid sodium instead of water as a moderator and cooling medium.
On September 26, 1957, SEAWOLF embarked President Dwight D. Eisenhower for a submerged run off Newport, Rhode Island. This was the first time the Commander and Chief was transported by nuclear propulsion. Additionally, while on a port visit in Provincetown, Massachusetts, SEAWOLF was the host to a December 8, 1957 NBC telecast of "Wide, Wide World."
During early 1958, SEAWOLF departed her home port in Groton for anti-submarine warfare exercises off the Florida coast. After successfully completing her training, she was diverted from her directed course to investigate the presence of a possible foreign submarine off our Atlantic coast - the first such operation by a nuclear submarine.
One of her proudest achievements occurred from August 7 - October 6, 1958, when the SEAWOLF remained submerged, totally independent of the earth's atmosphere for 60 days. This set a submerged operation endurance record. SEAWOLF received the Navy Unit Commendation Award and set the stage for today's extended submerged operations.
December 12, 1958 marked the day SEAWOLF moored at the Electric Boat Division to remove the sodium cooled reactor for conversion to the more reliable pressurized water cooled reactor that submarines use today. SEAWOLF had operated for 21 months, traveling 71,610 nautical miles. This included 240 days and 57,118 nautical miles of submerged steaming operations.
On August 28, 1960, SEAWOLF got underway from her builder's dock for sea trials and was re-commissioned on September 30, 1960.
On January 9, 1960, SEAWOLF sailed to San Juan, Puerto Rico for local operations. On the 25th, she was ordered to find and track the Portuguese Passenger Liner SANTA MARIA, which pirates had seized two days earlier. The submarine contacted the liner off the coast of Brazil on February 1st. After the SANTA MARIA surrendered, the SEAWOLF returned to San Juan and continued East Coast operations.
In June 1961, SEAWOLF got underway with the famous "Blue Angels" precision flying team embarked. During this indoctrination cruise, SEAWOLF demonstrated a series of underwater acrobatic maneuvers commonly referred to as "angles and dangles."
In 1963, SEAWOLF participated in the search for the lost USS THRESHER (SSN 593). In the spring of 1964, SEAWOLF deployed to the Mediterranean Sea and operated as a member of the world's first Nuclear Task Force. She operated with the USS ENTERPRISE (CVAN 65), USS LONG BEACH (CGN 9), and the USS BAINBRIDGE (CGN 25).
From 1965 to 1967, SEAWOLF was again refueled and upgraded to the new submarine quality assurance requirements that were set in place after the USS THRESHER (SSN 593) tragedy. She also became the Flagship of Submarine Squadron Two.
On November 17, 1970, SEAWOLF transited the Panama Canal coinciding with her change of home port from Groton, Connecticut to Mare Island Naval Shipyard in Vallejo, California for conversion to a special project platform.
In 1974, SEAWOLF completed her extensive post-conversion testing and evaluation period and conducted her first Pacific Fleet deployment which included operating independently for a period of three months. For her performance of duty, she was awarded second Navy Unit Commendation. In 1975, SEAWOLF came under the exclusive direction of Submarine Development Group One, and for outstanding performance in 1974-1975, was awarded a Battle Efficiency "E".
In 1976, SEAWOLF received her second consecutive Battle Efficiency "E" and the Engineering "E" for Excellence. During her second Pacific Fleet deployment, she conducted independent submerged operations for three months and demonstrated superior endurance by remaining submerged for 87 consecutive days, a U.S. Navy record. She received her third Navy Unit Commendation.
In 1977, SEAWOLF received her third Battle Efficiency "E" and her second Engineering "E" for Excellence. During her third Pacific Fleet deployment, she conducted 79 consecutive days of independent submerged operations and received her fourth Navy Unit Commendation and the Navy Expeditionary Medal.
In 1978, SEAWOLF conducted her fourth Pacific Fleet deployment.
In August 1981, SEAWOLF deployed on her fifth Pacific Fleet deployment. She returned to homeport in October 1981 and received the Navy Expeditionary Medal.
In 1983, SEAWOLF conducted her sixth Pacific Fleet deployment of 76 days and returned to Mare Island Naval Shipyard in May 1983. She was awarded the Navy Expeditionary Medal, another Battle Efficiency "E", another Engineering "E", a Supply "E", and a Damage Control "DC".
In 1984, SEAWOLF conducted a 93-day deployment to the Western Pacific, returned in July, and continued her high operating tempo with numerous local operations. She was awarded her third consecutive Supply "E", a Communications "C", and the Deck Seamanship Award.
In April of 1986, SEAWOLF conducted her last successful Western Pacific deployment and returned to Mare Island in June of 1986 to prepare for decommissioning.
USS SEAWOLF (SSN 575) was decommissioned on March 30, 1987.
The SEAWOLF name was not retired. She was towed to Bremerton, Washington, where she was laid to rest before entering the submarine recycling program on September 30, 1997. From her launch date in 1955 she proudly served over 43 years. The lead ship of the fast-attack submarine of the 21st century (the SSN 21 Class) is named SEAWOLF, carrying on her proud tradition of excellence.
Historical Notes:

Not yet available
Ship's Crest:

Supporters: Not yet available

The Shield: Not yet available

The Crest: Not yet available

Motto: Not yet available
PHOTOS
Click on images for larger view
More Photos: 1 | 2 | 3 | 4 | 5 | 6 | 7 | 8 | 9 | 10