SSN 753 | USS ALBANY
Namesake:
Legacy name / Albany, NY

The first Albany launched in June 1846 was a first-class sloop-of-war. She was lost at sea in 1854.

In May 1869 the screw sloop-of-war Contoocook was renamed Albany, making her the second ship to bear the name. She was placed out of commission in January 1870.

The third Albany (CL 23), a protected cruiser, was originally called Almirante Abreu, but was purchased from Brazil in 1898 and renamed while still on the shipways in Newcastle-on-the-Tyne, England. She was decommissioned in October 1922.

The fourth Albany (CA 123), a cruiser, was commissioned in 1946. In June 1958 Albany was converted to a guided missile cruiser and redesignated as CG 10. USS Albany (CG 10) served as the flagship for the Commander 6th Fleet from August 1976 until May 1980. She was decommissioned in Norfolk, VA on August 29, 1980.

Historical Notes:

Not yet available
Ship's Crest: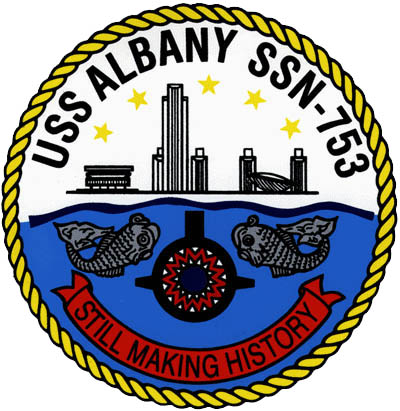 Description of Coat of Arms: The ALBANY (SSN 753) insignia combines all the features that make this submarine unique. In addition, it demonstrates the continuing ties between the Navy and the ship's namesake city, Albany, New York.

First, the seal carries the motto "STILL MAKING HISTORY" which was selected as the city's motto during its tricentennial celebration. It was in commemoration of the tricentennial that the submarine was named for the city. Next, a silhouette of the submarine bow accents bow planes and the bow flag that is traditional to submarine launchings. As the last submarine to slide down the incline of greased wooden shipways, ALBANY's launching was significant. In addition to representing the end of an era in submarine construction, ALBANY is the beginning of an advanced design of the 688 class attack submarine. Retractable bow planes are representative of the improved capabilities of this advanced design ship. A mooring line border and dolphins emphasize the nautical nature of the seal.

Dominating the design is the city skyline on the banks of the Hudson River. This shows graphically the city's vitality and the link between the city and the sea; starting from the fur trading post called Fort Orange in 1609, to the bustling sea port it is today. Five stars frame the city's skyline signifying that the submarine ALBANY is the fifth U.S. Navy ship to bear the name of New York's capital city.
PHOTOS
Click on images for larger view
More Photos: 1 | 2 | 3 | 4 | 5 | 6 | 7 | 8 | 9 | 10