SSN 771 | USS COLUMBIA
Namesake:
Legacy name

The submarine COLUMBIA (SSN 771) is the eighth commissioned U.S. Navy warship to bear the name that personifies freedom and the United States.

The first ship to bear the name COLUMBIA was a 44 gun frigate. The frigate was burned at the Washington Navy yards in 1814 in order to prevent the ship from falling into the hands of enemy forces.

The second COLUMBIA was a sailing frigate launched and commissioned into naval service in 1836. This vessel later became one of the first U.S. Navy ships to circumnavigate the globe. The ship was later scuttled and burned by Union forces at the outbreak of the Civil War.

The third COLUMBIA was a screw steamer used by Confederate forces as a blockade runner. In December 1862, she was captured by Union forces and assigned to the U.S. Navy's North Atlantic Blockading Squadron. This ship ran aground and wrecked off Wilmington, NC the following year.

In 1864, the fourth COLUMBIA was built and commissioned in Charleston, SC for the Confederate Navy. This vessel was an early ironclad ship which was later seized during the occupation of Charleston by Union forces in Februrary 1865. She saw limited action during the war and was decommissioned in June of the same year.

The Cruiser 12 was christened in 1892 as the fifth COLUMBIA at the Philadelphia Naval Shipyard. She participated in both the Spanish-American War and in the first World War. From 1915 to 1917 the ship acted as the Submarine Flotilla Flagship. She additionally served as a part of both Squadron 5 Patrol Force and Squadron 2 Destroyer Force. She was decommissioned in 1921.

In 1921, the USS GREAT NORTHERN, a naval transport ship, was renamed COLUMBIA. During World War I, she carried 28,248 troops to Europe and 22,852 back to the U.S. in 18 round trips. After distinguished service as the flagship for the Commander in Chief, Atlantic Fleet, she was decommissioned in 1922.

The seventh and most famous of the long COLUMBIA line, was the Light Cruiser CL-56. She was launched at the Camden Navy Yard in December, 1941, just after the U.S. entered World War II. She immediately reported to the South Pacific and participated in numerous actions in the Solomons, including the Battle of Empress Augusta Bay. She also supported the Palaus Landing and the invasion of the Philippines. During her involvement in the Battle of Leyte Gulf, she was credited with sinking a battleship, forcing the remaining enemy units to retire the battle. She also participated in the landing at Lingayen Gulf, the invasion of Borneo, and operated with Task Force 95 in the East China Sea. In all the ship was awarded ten battle stars and the Navy Unit Commendation prior to being decommissioned in 1946.

Historical Notes:

Not yet available
Ship's Crest: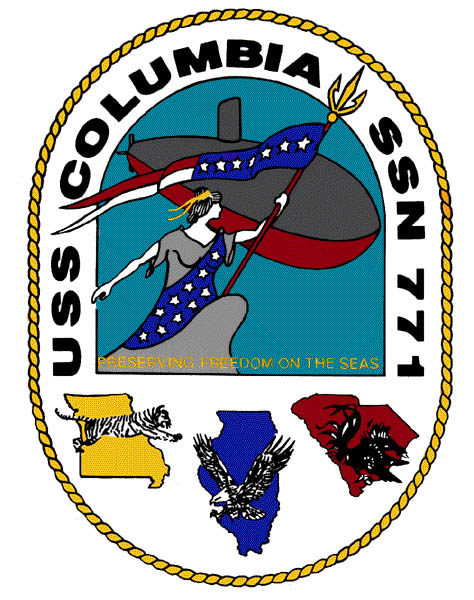 Supporters: Not yet available

The Shield: Not yet available

The Crest: Not yet available

Motto: Not yet available
PHOTOS
Click on images for larger view
More Photos: 1 | 2 | 3 | 4 | 5 | 6 | 7 | 8 | 9 | 10