CVN 65 | USS ENTERPRISE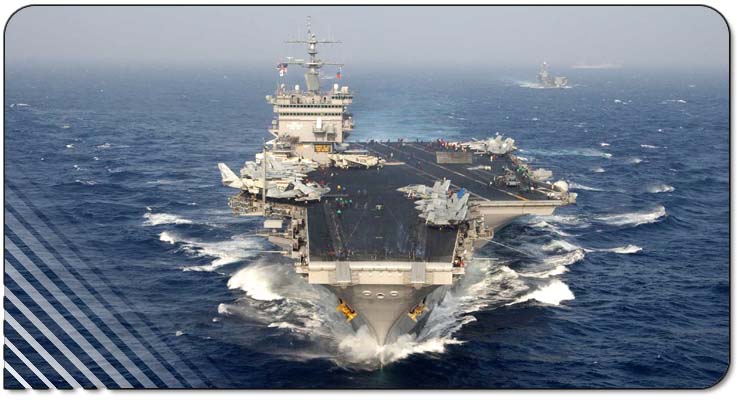 Namesake:
Legacy Name

ENTERPRISE I

The first USS ENTERPRISE, a British supply sloop, was captured in May 1775 at St. Johns, Quebec, Canada, by Colonel B. Arnold, named ENTERPRISE, and armed for use on Lake Champlain.

On 28 August 1775, ENTERPRISE and other vessels embarked more than 1,000 troops as part of an expedition against St Johns, Montreal. and Quebec. Though St. Johns and Montreal were captured, and Quebec was besieged, the arrival of strong British reinforcements forced the Americans to withdraw from Canada in the spring of 1776. ENTERPRISE and the other craft sailed to Isle aux Noix in the Richelieu River where they waited while Arnold directed the building of a fleet at Ticonderoga and Skenesborough (Whitehall), and the British-built ships at St Johns.

The battle was finally joined on 11 October 1776 at Valcour Island, near Plattsburg, N.Y. Arnold chose the site and deployed to await the British advance. Though markedly inferior in firepower, Arnold's fleet fought a valiant and effective action all day long, then slipped through the British line after dark. A running battle took place over the next 2 days, and resulted in the loss of all but five of the American ships. ENTERPRISE and four others escaped to Crown Point, then sailed on to Ticonderoga. A tactical defeat, Valcour Island was nevertheless a great strategic victory for the Americans.

Arnold and his little fleet so disrupted the British invasion into New York that it was nearly a year before the advance could be renewed. In that interval American troops were recruited and trained, and on 17 October 17771 under General Horatio Gates, defeated the British decisively at Saratoga, N.Y. This victory was a primary factor in bringing about the alliance with France, and bringing the powerful French navy to the aid of the colonies.

During the British advance prior to the Battle of Saratoga, ENTERPRISE was one of five vessels assigned to duty convoying bateaux in the evacuation of Ticonderoga. The small American force was no match for the British fleet on Lake Champlain, and after two ships had been captured, ENTERPRISE and the other two were run aground on 7 July 1777, and burned to prevent their capture.

ENTERPRISE II

The second ENTERPRISE. a schooner, was a successful letter-of-marque before she was purchased on 20 December 1776 for the Continental Navy. Commanded by Captain Joseph Campbell, ENTERPRISE operated principally in Chesapeake Bay. She convoyed transports, carried out reconnaissance, and guarded the shores against foraging raids by the British. Only meager records of her service have been found; they indicate that she was apparently returned to the Maryland Council of Safety before the end of February 1777.

ENTERPRISE III

The third ENTERPRISE, a schooner, was built by Henry Spencer at Baltimore, Md., in 1799, and placed under the command of Lieutenant John Shaw.

On 17 December 1799, ENTERPRISE departed the Delaware Capes for the Caribbean to protect United States merchantmen from the depredations of French privateers during the Quasi-War with France. Within the following year, ENTERPRISE captured 8 privateers and liberated 11 American vessels from captivity, achieve-ments which assured her inclusion in the 14 ships retained in the Navy after The Quasi-War.

ENTERPRISE next sailed to the Mediterranean, raising Gibraltar on 26 June 1801, where she was to join other U.S. warships in writing a bright and enduring page in American naval history. ENTERPRISE's first action came on 1 August 1801 when, just west of Malta, she defeated the 14-gun Tripolitan corsair Tripoli, after a fierce but one-sided battle. Unscathed, ENTERPRISE sent the battered pirate into port since the schooner's orders pro-hibited taking prizes.

Her next victories came in 1803 after months of carrying despatches, convoying merchantmen, and patrolling the Mediterranean. On 17 January, she captured Paulina, a Tunisian ship under charter to the Bashaw of Tripoli, and on 22 May she ran a 30-ton craft ashore on the coast of Tripoli. For the next month ENTERPRISE and other ships of the squadron cruised inshore, bombarding the coast and sending landing parties to destroy enemy small craft.

On 23 December 1803, after a quiet interval of cruising, ENTERPRISE joined with frigate Constitution to cap-ture the Tripolitan ketch Mastico. Refitted and renamed Intrepid, the ketch was given to ENTERPRISE's command-ing officer, Lieutenant Stephen Decatur, Jr., for use in a daring expedition to burn frigate Philadelphia, captured by the Tripolitans and anchored in the harbor of Tripoli. Decatur and his volunteer crew carried out their mission perfectly, destroying the frigate and depriving Tripoli of a powerful warship. ENTERPRISE continued to patrol the Barbary Coast until July 1804 when she joined the other ships of the squadron in general attacks on the city of Tripoli over a period of several weeks.

ENTERPRISE passed the winter in Venice where she was practically rebuilt by May 1805. She rejoined her squadron in July and resumed patrol and convoy duty until August of 1807. During that period she fought (15 August 1806) a brief engagement off Gibraltar with a group of Spanish gunboats who attacked her but were driven off. ENTERPRISE returned to the United States in late 1807, and cruised coastal waters until June 1809. After a brief tour in the Mediterranean, she sailed to New York where she was laid up for nearly a year.

Repaired at the Washington Navy Yard, ENTERPRISE was recommissioned there in April 1811, then sailed for operations out of Savannah, Ga. and Charleston, S.C. She returned to Washington on 2 October and was hauled out of the water for extensive repairs and modi-fications: when she sailed on 20 May 1812, she had been rerigged as a brig.

At sea when war was declared on Great Britain, she cruised along the east coast during the first year of hostilities. On 5 September 1813, ENTERPRISE sighted and chased HBM Brig Boxer. The brigs opened fire on each other, and in a closely fought, fierce and gallant action which took the lives of both commanding officers, ENTERPRISE captured Boxer and took her into nearby Portland, Maine. Here a common funeral was held for Lieutenant William Burrows, ENTERPRISE, and Captain Samuel Elyth, Boxer, both well-known and highly respected in their services.

After repairing at Portland, ENTERPRISE sailed in com-pany with brig Rattlesnake, for the Caribbean. The two ships took three prizes before being forced to separate by a heavily armed ship on 25 February 1814. ENTERPRISE was compelled to jettison most of her guns in order to outsail her superior antagonist. The brig reached Wilmington, N,C., on 9 March 1814, then passed the remainder of the war as a guardship off Charleston, S.C.

ENTERPRISE served one more short tour in the Medi-terranean (July-November 1815), then cruised the northeastern seaboard until November 1817. Front that time on she sailed the Caribbean and the Gulf of Mexico, suppressing pirates, smugglers, and slaves; in this duty she took 13 prizes. Her long career ended on 9 July 1823, when, without injury to her crew, she stranded and broke up on Little Curacao Island in the West Indies.

ENTERPRISE IV

The fourth ENTERPRISE, a schooner, was launched by the New York Navy Yard on 26 October 1831. and commissioned 15 December 1831, Lieutenant S. W. Downing in command. ENTERPRISE sailed on 12 January 1832 for South America where she patrolled the Brazil Station guarding United States' interests until April of 1834. Return-ing to New York at that time, she repaired and refitted until July when she departed again for Brazil.

Ten months later she joined sloop Peacock for a cruise to the Far East by way of Africa, 1ndia and the East Indies. Continuing eastward, ENTERPRISE called at Honolulu, Hawaii, in September of 1836, then proceeded to the west coast of Mexico, arriving at Mazatlan 28 October 1836. She cruised the west coast of South America until March of 1839 when she departed Valparaiso, Chile to round the Horn, call at Rio de Janeiro, and sail on to Philadelphia. Here she was inactivated on 12 July 1839.

ENTERPRISE was recommissioned 29 November 1839 and on 16 March 1840, sailed from New York for South America. After 4 years of protecting U.S. commerce on this station, she turned north for home. On 20 June 1844, ENTERPRISE entered the Boston Navy Yard and 4 days later was decommissioned for the last time. She was sold 28 October 1844.

ENTERPRISE V

The fifth ENTERPRISE, a bark-rigged screw sloop-of-war, was launched 13 June 1874 at Portsmouth Navy Yard, Kittery, Maine, by John W. Griffith, a private contractor; and commissioned 16 March 1877, Commander G. C. Remey in command.

ENTERPRISE's first duty after fitting out at Norfolk, Va., took her to the mouth of the Mississippi River for surveying operations. Returning to Norfolk in April 1878, she remained there only briefly, sailing 27 May for surveying duty up the Amazon and Madeira Rivers. This completed, she repaired at New York, then (December 1878) joined the U.S. naval forces in European waters, calling at numerous ports in northern Europe and in the Mediterranean. She returned to the Wash-ington Navy Yard on 9 May 1880 and was placed out of commission.

Recommissioned on 12 January 1882, she cruised the east coast until 1 January 1883 when she sailed on a 8-year hydrographic survey that took her completely around the world. Her findings on this cruise added materially to the knowledge of the oceans, their currents, and their bottoms. ENTERPRISE was decommis-sioned at New York on 21 March 1886.

Placed back in commission on 4 October 1887, ENTERPRISE sailed from Boston in January 1888 for 2 years in the waters of Europe, the Mediterranean, and the east coast of Africa, where she showed the flag and looked out for United States' interests. She returned to New York in March 1890 and was decommissioned on 20 May.

ENTERPRISE was again commissioned 8 July 1890, and for the next year operated principally in the Caribbean. From September 1891 until September 1892, she served as training and practice ship at the U.S. Naval Acad-emy, Annapolis, Md. On 17 October 1892 at Boston, she was lent to the Commonwealth of Massachusetts for duty as a maritime school ship. In that capacity she trained cadets for some 17 years. Returned to the Navy on 4 May 1909, ENTERPRISE was sold on 1 October 1909.

ENTERPRISE VI

The sixth ENTERPRISE, a motorboat, served in a noncommissioned status in the 2d Naval District during World War I.

ENTERPRISE VII

The seventh ENTERPRISE (CV-6) was launched 3 October 1936 by Newport News Shipbuilding and Co., Newport News, Va.; sponsored by Mrs. Claude A. Swanson, wife of the Secretary of the Navy: and commissioned 12 May 1938, Captain N. H. White in command.

ENTERPRISE sailed south on a shakedown cruise which took her to Rio de Janeiro, Brazil. After her return she operated along the east coast and in the Caribbean until -April of 1939 when she was ordered to duty in the Pacific. Based first on San Diego and then on Pearl Harbor, the carrier trained herself and her aircraft squadrons for any eventuality, and carried aircraft among the island bases of the Pacific. ENTERPRISE had just completed one such mission, delivering Marine Corps Fighter Squadron 211 to Wake Island on 2 De-cember 1941, and was en route to Hawaii when the Japanese attacked Pearl Harbor.

ENTERPRISE scout planes arrived over Pearl Harbor during the attack and, though surprised, immediately went into action in defense of the naval base. The carrier, meanwhile, assembled her remaining aircraft in a fruitless search for the Japanese striking force. ENTERPRISE put into Pearl Harbor for fuel and supplies on -- December and sailed early the next morning to patrol against possible additional attacks on the Hawaiian Islands. While the group did not encounter any surface ships, ENTERPRISE aircraft scored a kilt by sinking submarine I-170 in 23'45' N., 155'35' W., on 10 December-1941.

During the last 2 weeks of December 1941, ENTERPRISE and her group steamed to the westward of Hawaii to cover those islands while two other carrier groups made a belated attempt to relieve Wake Island. After a brief rest at Pearl Harbor, the ENTERPRISE group sailed on 11 January to protect convoys reinforcing Samoa. On 1 February, the task force dealt a hard blow to Kwajalein, Wotje, and Maloelap in the Marshall Islands, si-nking three ships, damaging eight, and destroying numerous airplanes and ground facilities. ENTERPRISE received only minor damage in the Japanese counterattack, as her force retired to Pearl Harbor.

During the next month ENTERPRISE's force swept the central Pacific, blasting enemy installations on Wake and Marcus Islands. then received minor alterations and repairs at Pearl Harbor. On 8 April 1942, she departed to rendezvous with Hornet (CV-8) and sail westward to launch 16 Army B-25 bombers in a raid on Tokyo. While ENTERPRISE fighters flew combat air patrol, the B-25s roared into the air on 18 April and raced undetected the 600 miles to their target. The task force, its presence known to the enemy, reversed course and returned to Pearl Harbor on 25 April.

Five days later, the "Big E" was speeding toward the South Pacific to reinforce the U.S. carriers operating in the Coral Sea. Distance proved too great to conquer in time, and the Battle of the Coral Sea was history before ENTERPRISE could reach her destination. Ordered back to Hawaii, the carrier entered Pearl Harbor on 26 May and began intensive preparations to meet the expected Japa-nese thrust at Midway Island.

Two days later she sortied as flagship of Rear Admiral Raymond A. Spruance, CTF-16, with orders "to hold Midway and inflict maximum damage on the enemy by strong attrition tac-tics." With ENTERPRISE in TF 16 were Hornet, 6 cruisers, and 10 destroyers. On 30 May, TF 17, Rear Admiral Frank J. Fletcher in Yorktown (CV-5), with two cruisers, and six destroyers, sailed to support TF 16; as senior officer, Rear Admiral Fletcher became "Officer in Tactical Command."

Battle was joined on the morning of 4 June 1942 when four Japanese carriers, unaware of the presence of U.S. forces, launched attacks on Midway Island. Just 3 hours after the first bomb fell on Midway, planes from Hornet struck the enemy force, and 30 minutes later ENTERPRISE and Yorktown aircraft streaked in to join in smashing the Japanese carriers.

Each side hurled attacks at the other during the day in one of history's most decisive battles. Though the forces were in contact to 7 June, by the end of the 4th the outcome had been decided and the tide of the war in the Pacific had been turned in the United States' favor. Yorktown and Hammann (DD 412) were the only United States ships sunk, but TFs 16 and 17 lost a total of 113 planes, 61 of them in combat, during the battle. Japanese losses, far more severe, consisted of 4 carriers, 1 cruiser, and 272 carrier aircraft. ENTERPRISE and all other ships of TFs 16 and 17 came through undamaged, returning to Pearl Harbor on 13 June 1942.

After a month of rest and overhaul, ENTERPRISE sailed on 15 July for the South Pacific where she joined TF 61 to support the amphibious landings in the Solomon Islands on 8 August. For the next 2 weeks, the carrier and her planes guarded seaborne communication lines southwest of the Solomons. On 24 August a strong Japanese force was sighted some 200 miles north of Guadalcanal and TF 61 sent planes to the attack. An enemy light carrier was sent to the bottom and the Japanese troops intended for Guadalcanal were forced back.

ENTERPRISE suffered most heavily of the United States ships, 3 direct hits and 4 near misses killed 74, wounded 95, and inflicted serious damage on the carrier. But well-trained damage control parties, and quick, hard work patched her up so that she was able to return to Hawaii under her own power.

Repaired at Pearl Harbor from 10 September to 16 October, ENTERPRISE departed once more for the South Pacific where with Hornet, she formed TF-61. On 26 October, ENTERPRISE scout planes located a Japanese carrier force and the Battle of the Santa Cruz Island was underway. ENTERPRISE aircraft struck carriers, battleships, and cruisers during the struggle, while the "Big E" herself underwent intensive attack. Hit twice by bombs, ENTERPRISE lost 44 killed and had 75 wounded.

Despite serious damage, she continued in action and took on board a large number of planes from Hornet when that carrier had to be abandoned. Though the American losses of a carrier and a destroyer were more severe than the Japanese loss of one light cruiser, the battle gained priceless time to reinforce Guadalcanal against the next enemy onslaught.

ENTERPRISE entered Noumea, New Caledonia, on 30 October for repairs, but a new Japanese thrust at the Solomons demanded her presence and she sailed on 11 November, repair crews from Vestal (AR-4) still on board, working vigorously. Two days later, "Big E" planes swarmed down on an enemy force and disabled a battleship which was sunk later by other American aircraft, and on 14 November, aviators from ENTERPRISE helped to despatch a heavy cruiser. When the Naval Battle of Guadalcanal ended on 15 November 1942, ENTERPRISE had shared in sinking 16 ships and damaging 8 more. The carrier returned to Noumea on 16 Novem-ber to complete her repairs.

Sailing again on 4 December. ENTERPRISE trained out of Espiritu Santo, New Hebrides, until 28 January 1943 when she departed for the Solomons area. On 30 Janu-ary her fighters flew combat air patrol for a cruiser- destroyer group during the Battle of Rennell Island. Despite the destruction of a large majority of the attack-ing Japanese bombers by ENTERPRISE planes, Chicago (CA-29) was sunk by aerial torpedoes.

Detached after the battle, the carrier arrived at Espiritu Santo on 1 February, and for the next 3 months operated out of that base, covering U.S. surface forces up to the Solomons. ENTERPRISE then steamed to Pearl Harbor where, on 27 May 1943, Admiral Chester W. Nimitz presented the ship with the first Presidential Unit Citation won by an aircraft carrier. On 20 July 1943 she entered Puget Sound Navy Yard, Bremerton, Wa., for a much -needed overhaul.

Back in action waters by mid-November, ENTERPRISE joined in providing close air support to the Marines landing on Makin Island, from 19 to 21 November. On the night of 26 November 1943, the "Big E" introduced carrier-based night fighter operations in the Pacific when a three-plane team from the ship broke up a large group of land-based bombers attacking TG 50.2. After a heavy strike by aircraft of TF 50 against Kwajalein on 4 December, ENTERPRISE returned to Pearl Harbor 5 days later.

The carrier's next operation was with TF 58 in softening up the Marshall Islands and supporting the landings on Kwajalein, from 29 January to 3 February. Then ENTERPRISE sailed, still with TF 58, to strike the Japanese naval base at Truk in the Caroline Islands, on 17 February. Again the "Big E" made aviation history when she launched the first night radar bombing attack from any U.S. carrier. The 12 torpedo bombers in this strike achieved excellent results, accounting for nearly one-third of the 200,000 tons of shipping destroyed by the aircraft of the task force.

Detached from TF 58, ENTERPRISE launched raids on Jaluit Atoll on 20 February, then steamed to Majuro and Espiritu Santo. Sailing 15 March in TG 36.1, she pro-vided air cover and close support for the landings on Emirau Island (19-25 March). The carrier rejoined TF 58 on 26 March and for the next 12 days joined in the series of hard-hitting strikes against the Yap, Ulithi, Woleai, and the Palau Islands. After a week's rest and replenishment at Majuro. ENTERPRISE sailed (14 April) to support landings in the Hollandia area of New Guinea. and then hit Truk again (29-30 April).

On 6 June 1944, the "Big E" and her companions of TG 58.3 sortied from Majuro to strike with the rest of TF 58, the Mariana Islands. Blasting Saipan, Rota, and Guam between 11 and 14 June, ENTERPRISE pilots gave direct support to the landings on Saipan on 15 June, and covered the troops ashore for the next 2 days.

Aware of a major Japanese attempt to break up the invasion of Saipan, Admiral Raymond A. Spruance, Commander 5th Fleet, positioned TF 58 to meet the thrust.

On 19 June 1944 took place the greatest carrier aircraft battle in history. For over 8 hours airmen of the United States and Imperial Japanese navies fought in the skies over TF 58 and the Marianas. By the end of the day, a United States victory was apparent. and at the conclu-sion of the strikes against the Japanese fleet on 20 June, the triumph became complete. Six American ships had been damaged, and 130 planes and a total of 76 pilots and aircrewmen had been lost. But with a major assist from U.S. submarines, 8 Japanese carriers were sunk, and 426 ship-based aircraft were destroyed. Japanese naval aviation never recovered from this blow.

The Battle of the Philippine Sea over, ENTERPRISE and her companions continued to support the Saipan campaign through 5 July. ENTERPRISE then sailed for Pearl Harbor and a month of rest and overhaul. Back in action waters on 24 August, the carrier sailed with TF 38 in that force's aerial assault on the Volcano and Bonin Islands from 31 August to 2 September, and Yap, Ulithi, and the Palaus from 6 to 8 September.

After operating west of the Palau Islands, the "Big E" joined other units of TF 38 on 7 October, and shaped course to the northward. From 10 to 20 October, her aviators roared over Okinawa, Formosa, and the Philippines, blasting enemy airfields, shore installations, and shipping in preparation for the assault on Leyte. After supporting the Leyte landings on 20 October, ENTERPRISE headed for Ulithi to replenish but the approach of the Japanese fleet on 23 October brought her racing back into action.

In the Battle for Leyte Gulf (23-26 Oc-tober), ENTERPRISE planes struck all three groups of enemy forces, battering battleships and destroyers be-fore the action ended. The carrier remained on patrol east of Samar and Leyte until the end of October, then retired to Ulithi for supplies. During November, her aircraft struck targets in the Manila area, and the island of Yap. The "Big E" returned to Pearl Harbor on 6 December 1944.

Sailing 24 December for the Philippine area, Enter-prise carried on board an air group specially trained in night carrier operations. She joined TG 38.5 and swept the waters north of Luzon and of the China Sea during January of 1945, striking shore targets and shipping from Formosa to Indo-China. After a brief visit to Ulithi, the "Big E" joined TG 58.5 on 10 February 1945, and provided day and night combat air patrol for TF 58 as it struck Tokyo on 16 and 17 February. She then supported the Marines on Iwo Jima from the day of the landings, 10 February, until 9 March when she sailed for Ulithi.

During one part of that period, ENTERPRISE kept aircraft aloft continuously over Iwo Jima for 174 hours. Departing Ulithi 15 March, the carrier continued her night work in raids against Kyushu, Honshu, and shipping in the Inland Sea of Japan. Damaged lightly by an enemy bomb on 18 March, ENTERPRISE entered Ulithi 6 days later for repairs.

Back in action on 5 April, she supported the Okinawa operation until again damaged (11 April), this time by a suicide plane, and forced back to Ulithi. Off Okinawa once more on 6 May, ENTERPRISE flew patrols around the clock as the menace of the kamikaze increased. On 14 May1945, the "Big E" suffered her last wound of World War II when a suicide plane destroyed her forward elevator, killing 14 and wounding 34 men. The carrier sailed for repairs at the Puget Sound Navy Yard, arriving 7 June 1945.

Restored to peak condition, ENTERPRISE voyaged to Pearl Harbor returning to the States with some 1,100 servicemen due for discharge, then sailed on to New York, arriving 17 October 1945. Two weeks later she proceeded to Boston for installation of additional berth-ing facilities, then began a series of "Magic Carpet" voyages to Europe, bringing more than 10,000 veterans home in her final service to her country. ENTERPRISE entered the New York Naval Shipyard on 18 January 1946 for inactivation, and was decommissioned on 17 February 1947. The "Big E" was sold on 1 July 1958.

In addition to her Presidential Unit Citation, ENTERPRISE received the Navy Unit Commendation and 20 battle stars for World War II service.

ENTERPRISE VIII

The eighth ENTERPRISE (CVA(N) 65), the world's first nuclear-powered aircraft carrier, was launched 24 September 1960 by Newport News Shipbuilding and Drydock Co., Newport News, Va.; sponsored by Mrs. W. B. Franke, wife of the Secretary of the Navy; and commis-sioned 25 November 1961, Captain V. P. de Poix, in command.

After commissioning, ENTERPRISE began a lengthy series of tests and training exercises, designed to determine the full capabilities of the nuclear-powered air-craft carrier. Immediately her superlative characteris-tics and performance became obvious. She began flight operations on 17 January 1962 when an F8U Crusader became the first airplane to land on board her giant flight deck. The same aircraft later became the first plane to be catapulted from ENTERPRISE.

One month later, on 20 February 1962, the nuclear-powered carrier played a role in the space age when ENTERPRISE acted as a tracking and measuring station for the epochal flight of Friendship 7, the "Project Mercury" space capsule in which Lieutenant Colonel John H. Glenn. Jr., USMC, made the United States' first orbital space flight. The career of the eighth ENTERPRISE had started well.

Historical Notes:

A bottle of champagne shattered on the bow of the awesome new warship, USS ENTERPRISE (CVN 65), breaking the silence of an anxious crowd at Newport News Shipbuilding and Drydock Company, Newport News, Va. It was Sunday morning, Sept. 24, 1960, when Mrs. William B. Franke, wife of the former Secretary of the Navy, christened the eighth USS ENTERPRISE, bringing to life the longest, tallest and mightiest warship to ever sail the seas.

At the commissioning of ENTERPRISE, the world's first nuclear-powered aircraft carrier, Secretary of the Navy John B. Connally, Jr., called it a worthy successor to the highly decorated seventh USS ENTERPRISE of World War II. "The Fighting Gray Lady, as it was called, served in such well-known battles as the raid on Tokyo and the Battle of Midway." Secretary Connally went on to say, "The new ENTERPRISE will reign a long, long time as queen of the seas."

ENTERPRISE made its maiden voyage under the command of Capt. Vincent P. DePoix, Jan. 12, 1962. In August, ENTERPRISE joined the Sixth Fleet in the Med-iterranean. Soon after its return to Norfolk, Va., in October, ENTERPRISE was dispatched to its first international crisis.

ENTERPRISE and other ships in the Second Fleet set up a "strict quarantine of all offensive military equipment under shipment to Cuba." The blockade was put in place on Oct. 24, and the first Soviet ship was stopped the next day. On Oct. 28, Khrushchev agreed to remove the missiles and dismantle the missile bases in Cuba.

ENTERPRISE made its second and third deployments to the Mediterranean in 1963 and 1964. During the latter deployment, on May 13, the world's first nuclear-powered task force was formed when USS Long Beach and USS Bainbridge joined ENTERPRISE. On July 31, the ships were designated Task Force One and sent on Operation Sea Orbit, a historic 30,565-mile voyage around the world, accomplished without a single refueling or replenishment. In October, ENTERPRISE returned to Newport News Shipbuilding and Dry Dock Company for its first refueling and overhaul.

The Big E transferred to the Pacific's Seventh Fleet in November 1965 and became the first nuclear-powered ship to engage in combat when it launched bomb-laden aircraft in a projection of power against the Viet Cong on Dec. 2, 1965. Its hot decks launched 125 sorties on the first day, unleashing 167 tons of bombs and rockets on the enemy's supply lines. The next day it set a record of 165 strike sorties in a single day.

In all, ENTERPRISE made six combat deployments to Southeast Asia from 1965 to 1972. Between combat tours, ENTERPRISE returned to Newport News Shipbuilding and Drydock Company in 1970 for an overhaul and second refueling.

Following the 1973 cease-fire in Vietnam, ENTERPRISE proceeded to Puget Sound Naval Shipyard, Bremerton, Wash., where Big E was altered and refitted to support the Navy's newest fighter aircraft -- the F-14A "Tomcat." When ENTERPRISE made its seventh Western Pacific (WESTPAC) deployment in September 1974, it became the first carrier to deploy with the new fighter plane.

During the deployment, in February 1975, ENTERPRISE was called on to help in the evacuation of Saigon. During Operation Frequent Wind, Big E aircraft flew 95 sorties.

The ship made its eighth and ninth WESTPACs in 1976 and 1978, respectively. It sailed to Puget Sound Naval Shipyard in January 1979 for a 30-month comprehensive overhaul. ENTERPRISE made its 10th, 11th and 12th WESTPAC deployments in 1982, 1984 and 1986, respectively.

When ENTERPRISE deployed in 1986, it became the first nuclear-powered aircraft carrier to transit the Suez Canal. It then entered the Mediterranean Sea for the first time in over 22 years.

In April 1988, ENTERPRISE, on its 13th deployment, was assigned to escort reflagged Kuwaiti oil tankers in the Persian Gulf while stationed in the North Arabian Sea. In a measured response, ENTERPRISE and Carrier Air Wing 11 struck a decisive blow to the Iranian navy in the most intensely fought naval battle since the Korean campaign.

ENTERPRISE began its 14th overseas deployment in September 1989. In early December, ENTERPRISE participated in Operation Classic Resolve, President Bush's response to Philippine President Corazon Aquino's request for air support during the rebel coup attempt. ENTERPRISE remained on station conducting flight operations in the waters outside Manila Bay.

In March 1990, ENTERPRISE completed its highly successful around-the-world deployment by arriving in Norfolk, Va. ENTERPRISE had successfully and safely steamed more than 43,000 miles from its long-time homeport of Alameda, Calif. In October, ENTERPRISE moved to Newport News Shipbuilding and Drydock Company for refueling and the Navy's largest complex overhaul ever attempted.

It returned to sea Sept. 27, 1994, for sea trials, during which ENTERPRISE performed an extended full power run as fast as when it was new. The Big E remains the fastest combatant in the world.

On June 28, 1996, ENTERPRISE began its 15th overseas deployment. The Big E enforced no-fly zones in Bosnia (Operation Joint Endeavor) and Iraq (Operation Southern Watch).

The deployment also marked the end of an era when VA-75 retired the A-6E Intruder from the Navy. ENTERPRISE completed its deployment Dec. 20, 1996.

In February of 1997 ENTERPRISE entered Newport News Shipbuilding and Drydock Co. for an extended selective restrictive availablity lasting four-and-a-half months. Following workups, ENTERPRISE departed on its 16th overseas deployment Nov. 6, 1998, this time with CVW 3. Following a high-speed TransLant, Big E relieved Eisenhower in the Arabian Gulf Nov. 23.

On Dec. 16, 1998, ENTERPRISE Battle Group assets initiated Operation Desert Fox, the aerial assault of military targets in Iraq, first with Tomahawk land attack missiles and then air strikes by CVW 3. During the 70-hour operation, Team ENTERPRISE launched more than 200 Tomahawk cruise missiles and dropped more than 675,000 pounds of ordnance. Immediately after Desert Fox, Big E steamed to the Adriatic Sea for possible combat operations in the Yugoslavian province of Kosovo. The deployment concluded in May 1999.

ENTERPRISE is scheduled to begin its next deployment in spring-2001.
Ship's Crest: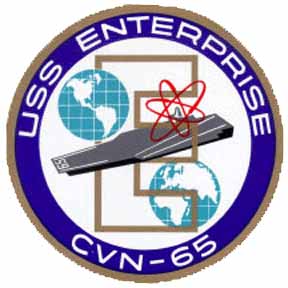 Description of Coat of Arms:: The outer circle, using the Navy colors of blue and gold, enclose a gold outlined Big "E", the traditional nickname for its predecessor, the renowned aircraft carrier of World War II, USS ENTERPRISE (CV 6). As the world's first nuclear-powered aircraft carrier, USS ENTERPRISE (CVN 65) adopted the nickname, confident that it is living up to the traditions of the service and duty the Big "E" symbolizes. Over the upper left-hand section of the E is an overlay of the globe showing the Western Hemisphere, home waters for ENTERPRISE and the United States Navy. The lower right-hand section of the E, covered by part of the golden outline, is another section of the globe showing the Eastern Hemisphere, symbolizing that ENTERPRISE and its aircraft can cover the world.

Emerging through the center of the E is an aircraft carrier with a nuclear emblem surrounding the island structure to indicate the nuclear capability and power that ENTERPRISE contains.

When commissioned on 25 November 1961, ENTERPRISE was designated as a 'nuclear-powered attack aircraft carrier' and was assigned the hull number CVAN 65.

To more accurately reflect ENTERPRISE's multi-mission capabilities, the "A" (for attack) was dropped on 1 July 1975, and the Big E became a nuclear-powered aircraft carrier with the hull number CVN 65.
PHOTOS
Click on images for larger view
More Photos: 1 | 2 | 3 | 4 | 5 | 6 | 7 | 8 | 9 | 10 | 11 | 12 | 13 | 14 | 15 | 16 | 17 | 18 | 19 | 20 | 21 | 22 | 23 | 24 | 25