SSN 777 | USS NORTH CAROLINA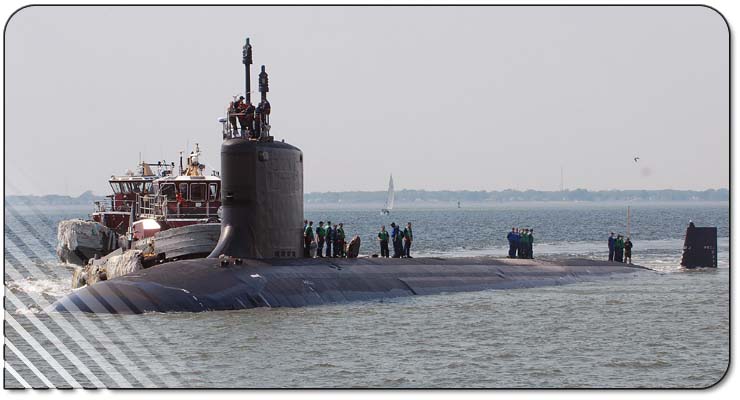 Namesake:
State of North Carolina, legacy name

USS North Carolina (SSN 777) is the fourth United States ship and the first submarine to bear the name North Carolina.

The first North Carolina was a 74-gun ship launched on September 7, 1820. Considered one of the most powerful ships of the time, she served as flagship for Commodore John Rodgers from April 1825 until May 1827. She was decommissioned October 30, 1836.

The second North Carolina (ACR 12) was a cruiser commissioned May 7, 1908. In World War I, she escorted troops from New York to Norfolk and brought men of the AEF home from Europe.

The third North Carolina (BB 55) was commissioned April 9, 1941. First commissioned of the Navy's modern battleships, North Carolina received so much attention during her trials that she earned the nickname "Showboat."

North Carolina entered the Pacific theater of World War II on June 10, 1942. She first saw combat on the Battle of East Solomons, where she shot down at least seven enemy aircraft.

Over the years, North Carolina saw many battles, including the attacks on Tarawa, the Marshall Islands and Iwo Jima. She shot down countless aircraft, sunk enemy ships and destroyed land targets throughout the Pacific and earned 12 battle stars.

Historical Notes:

Not yet available
Ship's Crest:

Supporters: Not yet available

The Shield: Not yet available

The Crest: Not yet available

Motto: Not yet available
PHOTOS
Click on images for larger view
More Photos: 1 | 2 | 3 | 4 | 5 | 6 | 7 | 8 | 9 | 10