SSN 713 | USS HOUSTON
Namesake:
Legacy name / Houston, TX

The USS HOUSTON (SSN 713) is the United States Navy's first submarine to be named HOUSTON and the fourth United States navy vessel named in honor of the city of HOUSTON, Texas.

The first Houston was originaly the German Freighter LIEBENFELS, captured during World War I and commissioned USS HOUSTON (AK-1) in 1917. She served in various transport and convoy duties in the Atlantic and Pacific until her decommissioning in 1922.

The second HOUSTON (CA-30) was launched by Newport News Shipbuilding and Drydocking Co. on September 7,1929, and commissioned June 17, 1930.

Prior to World War II, she served as the flagship of four admirals and carried President Franklin D. Roosevelt on four official cruises.

When the United States entered World War II, HOUSTON was assigned to the Asiatic Fleet and after transit to Australia she joined the ABDA ( American-British-Dutch-Australian ) naval forces at Surabaya, Java.

In the Battle of Java Sea on Febuary 26, 1942, HOUSTON and the ABDA force boldly engaged a large Japanese invasion fleet steaming to Java. The battle continued through the night when HMAS PERTH and USS HOUSTON steamed boldly into Bantea Bay, hoping to damage the Japanese invasion forces. The cruiser successfully evaded nine torpedoes launched by Japanese destroyers, then sank one transport and so severly damaged three others that they had to beach. Enemy ships blocked Sundra Strait, their only means of retreat, and two Japanese heavy cruisers stood dangerously near. The black night was dramatically illuminated by flashing salvos, bursting shells and burning ships. Within an hour PERTH was gone and the battered HOUSTON surrounded.

A champion at bay, her guns blazed in all directions, sinking or badly damaging eight ships while suffering four torpedo hits and countless direct shell hits. But her time had come. By dawn, with her guns smoldering and ensign still proudly flying she slipped into history.

In addition to two battle stars, Houston was awarded the Presidential Unit Citation. The third HOUSTON (CL81) was launched June 19, 1943. The cruiser earned three battle stars for service in World War II, distinguishing herself in numerous engagements, including the invasion of the Marianas, the Battle of the Philippine Sea and the naval assault on Formosa. She was decommissioned December 15, 1947.

Historical Notes:

Not yet available
Ship's Crest: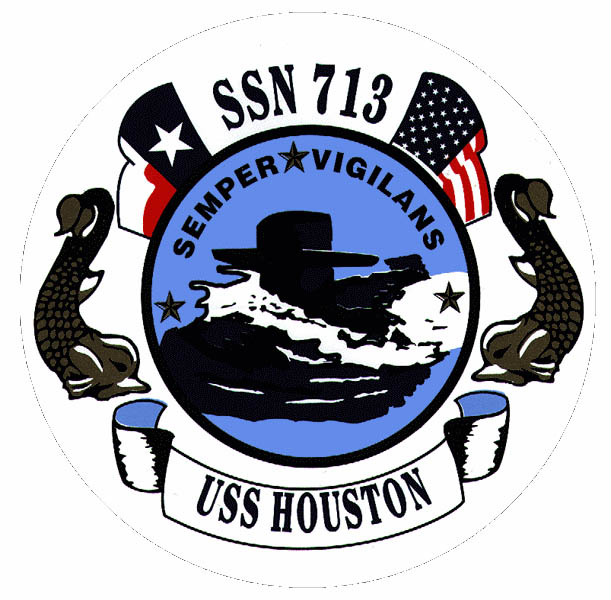 Description of Coat of Arms:The design incorporates a 688 class submarine, three stars, one for each of the previous HOUSTON'S: United States and Texas; flags depicting Houston's ties to the United States and the state of Texas; and the dolphins for the United States Submarine Service.
PHOTOS
Click on images for larger view
More Photos: 1 | 2 | 3 | 4 | 5 | 6 | 7 | 8 | 9 | 10