SSBN 727 | USS MICHIGAN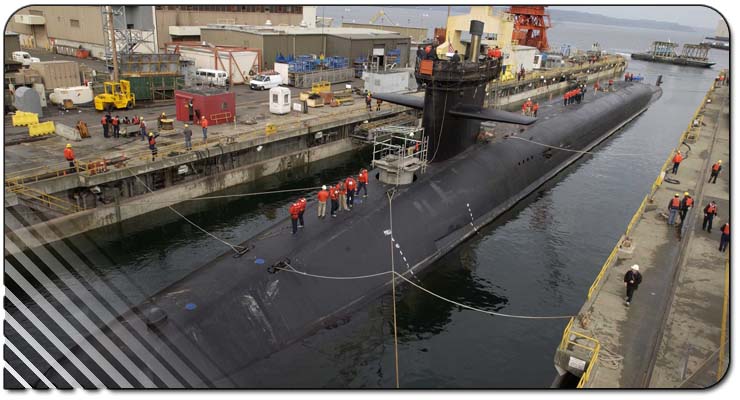 Namesake:
Legacy name

FIRST USS MICHIGAN 1843-1922

The USS MICHIGAN, renamed the USS WOLVERINE, was the first iron warship in the U.S. Navy and probably the first iron or steel warship of her size in the world. She was originally designed as a "three-mast, topsail schooner" with auxiliary steam power.

The MICHIGAN was on duty on the Great Lakes during the Civil War but never engaged in battle. In 1905 a new USS MICHIGAN (BB27) was to be commissioned by the U.S. Navy. The original MICHIGAN was renamed the WOLVERINE, after the MICHIGAN state animal. About 1910 she was turned over to the Naval Reserve as a Training Ship and remained active in this capacity until 1922 when one of her engines broke down.

SECOND USS MICHIGAN (BB27)1910-1922

The second MICHIGAN (BB27) was laid down 17 December 1906 by New York Shipbuilding Co., Camden, NJ; launched 26 May 1908 and commissioned 4 January 1910. Assigned to the Atlantic Fleet, MICHIGAN, with sister ship SOUTH CAROLINA, were the U.S. Navy's first class of dreadnoughts or all big-gun battleships. The layering of her main armament 12" guns and placement of all turrets on the centerline was a novel arrangement which spread as a universal battleship arrangement.

Prior to 1914 the battleship MICHIGAN operated in the North Atlantic, the Gulf of Mexico, and along the Atlantic Coast. During World War I, the warship escorted convoys, trained recruits, and engaged in fleet maneuvers. On 6 August 1919, the MICHIGAN was placed in limited commission and conducted various training cruises. MICHIGAN was decommissioned at Philadelphia Navy Yard 11 February 1922 and was stricken from the Navy list 10 November 1923 in accordance with the treaty limiting naval armaments.

Historical Notes:

USS MICHIGAN (SSBN-727) is the second TRIDENT Class Nuclear Powered Fleet Ballistic Missile Submarine to have been constructed at the Electric Boat Division of General Dynamics Corporation in Groton, Connecticut. MICHIGAN was commissioned on 11 September 1982 and is the third United States Navy vessel to bear the name of the state. MICHIGAN arrived in Bangor on 16 March 1983 and has completed thirty-three Strategic Deterrent Patrols.
Ship's Crest: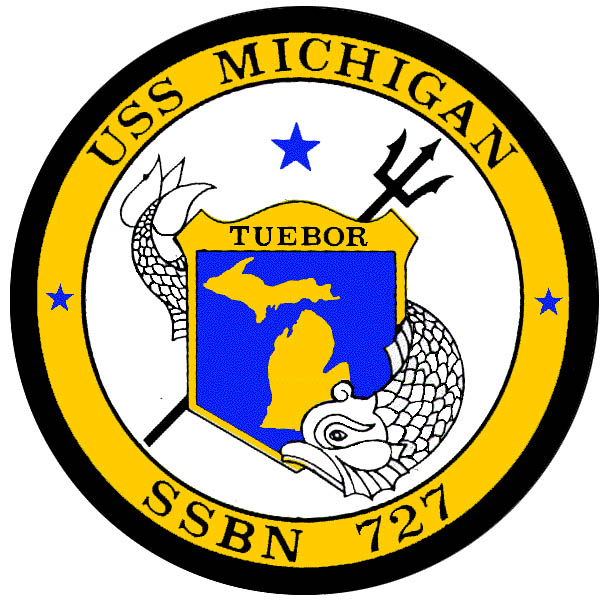 Supporters: Not yet available

The Shield: Not yet available

The Crest: Not yet available

Motto: Not yet available
PHOTOS
Click on images for larger view
More Photos: 1 | 2 | 3 | 4 | 5 | 6 | 7 | 8 | 9 | 10